Carriage Museum
19
th
& 20
th
Century Carriages and Sleighs for Rent and Sale
Whose woods these are I think I know.

His house is in the village though;

He will not see me stopping here

to watch his woods fill up with snow.

My little horse must think it queer

To stop without a farmhouse near

Between the woods and frozen lake

The darkest evening of the year.

He gives his harness bells a shake

to ask if there is some mistake.

The only other sound's the sweep

Of easy wind and downy flake.

The woods are lovely, dark and deep,

But I have promises to keep,

And miles to go before I sleep,

And miles to go before I sleep.

-Robert Frost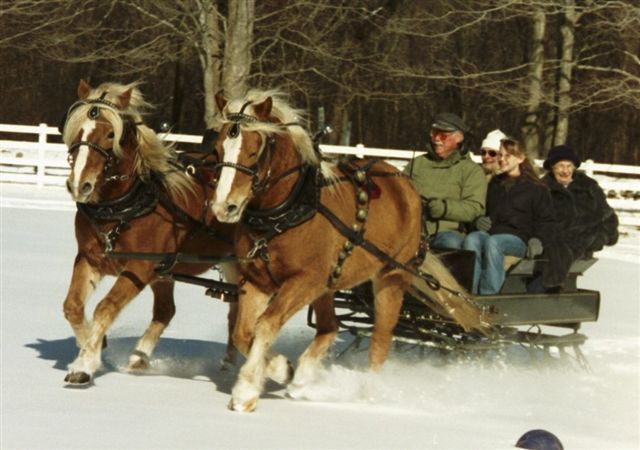 Our collection started in 1998 with the purchase of a matched team of 2 year old Haflingers from an Amish family in Holmes County, Ohio. We needed something for them to pull so we were introduced to the Amish carriage makers of Lancaster County, Pennsylvania. Shady Lane Wagons of New Holland built us a very sturdy wagonette and they led us to Martin Auctioneers. We soon outgrew our livestock barn so the Amish of Graber Supply traveled 300 miles to build us a 32' X 64' pole carriage barn. The collection now fills that barn and its time to share these museum-quality restored vehicles from the past.
| | |
| --- | --- |
| Before Restoration | After Restoration |
| | |
The carriages date from the Civil War period to 1910 while the sleighs range from the rare Albany sleigh of 1820-40 to 1895. They can be leased for a holiday period or a one day event. They must be protected away from the public so they can't touch their mirrored shiny painted surface or climbing children. The display must be indoors or protected from the weather.
As seen on Better Connecticut - WFSB Hartford:



Carriages

Click the picture(s) of each carriage for a printable version.

Doctor's Buggy

circa: 1860's

maker: J. & F. French, Keene, New Hampshire

Authenticated by three individuals as Civil War period with brass hubs and whip holder, folding top and roll up window panel.

NOTE: Fabric lined folding top.

Brewster Brougham

circa: 1874

On hub caps (center) Broadway & 47th street (outer ring) Brewster & company of Broume street, New York

Under coachman's seat - serial no. 2598. On bottom edge of rear metal axle - 2598. Curved glass invented in Paris in 1870.

Lamps are not Brewster but Stevens & Sackett of New Haven, CT (candle type). The coat of arms on doors represents the family of McCormick. The directory for the city of New York (1890) shows a Timothy McCormick selling Brewster Coaches.

Wicker Roof Rack - Owned by the Vanderbilts (The Breakers) of Newport, Rhode Island.

Doctor's Buggy (Concord Wagon)

circa: 1885

maker: Gilbert Pierce, Norwich Falls, Connecticut

Gilbert Pierce started as a carriage painter in Norwichtown around 1867 and continued in that capacity until 1885 when he purchased a carriage factory at 41 Sherman street and started manufacturing carriages and wagons. His blacksmith shop which made axles and springs was nearby at 51 Sherman street.

This buggy was purchased by Doctor William Mason who lived on the East-side of the Thames River on a very large estate. It received Norwich's "Rose of New England" award at their 350th anniversary.

Skeleton Boot Studebaker Victoria

circa: 1890

maker: Studebaker Manufacturing Company, South Bend, Indiana

On Brass Hubcaps - "Studebaker/New York"

Dealers sold this 3/4 scale version in New York City showrooms.

Four Passenger Buckboard

circa: 1892

maker: Sturtevant Larrabee Company, Builder, Binghamton, New York

1891 - Incorporated as a company

Black walnut varnished wood with an unusual spring system on staggered spoke wheels.

Park Phaeton Surrey

circa: 1895-1900

maker: Sturtevant Larrabee Company, Builder, Binghamton, New York

Mechanical rear brakes, original button upholstery and lanterns with original grey rubber on staggered spoke wheels.

Curtain Rockaway

circa: 1900

maker: M. Plumstead & Sons, Lynn, Massachusetts

Factory located at the corner of Broad and Washington street.

Original black upholstery and leather cushions.

Wheels on original grey rubber.

Two summer coachmen and groom seat backs.

Front window panel, lock key, and original roll-up leather curtains with beveled glass.

Front panel is completely removed with its special key for summer breezes while traveling to and from ocean beaches by resort hotels.

Spindle Seat Runabout

circa: 1900

maker: E.M. Shenk & Sons, Millway, Pennsylvania

The runabout was America's number one carriage and was designed in this country.

The runabout was also used as a Road Wagon.

About 1900 the Sears Roebuck catalog could sell you one for $24.95.

Brewster could sell you a fancy one for $425.00.

A 1908 catalog sold one with a top for $50.00.

Governess Cart

circa: 1900

Staggered spokes.

This wicker body cart became popular around 1900.

The Irish in Ireland used this type of wicker cart as a mode of transportion.

When the Irish immigrated to the United States in the late 1800's they brought these low center of gravity carts for the wealthy to entertain their children.

To pull the cart they employed the strength of the children's pony under the supervision of the family governess or nanny.

Sleighs

Click the picture(s) of each sleigh for a printable version.

Old Albany Sleigh (Country Cutter)

circa: 1820-1840

maker: James Gould Albany, New York. started designing sleighs in the early 1820's. Gould's shapes were more fanciful.

Each new design ended up having its own unique character and appearance.

It was fashionable to own any "Albany", and only the wealthy could afford one.

Many of them were custom made.

NOTE: The sleigh shown came from a barn in East Hampton, Connecticut.

The pinstriping and art on the sleigh was done by Kathy Peace Bland of Virginia. Sadly, she died of cancer at a young age.

Albany Tub Sleigh

circa: 1870's (as stated by restorer)

maker: James Gould, Albany, New York

Black patent leather fanny extender allowed a small child to fit between the parents.

The pinstripping and art was done by the restorer's sister who had been head of the art department at the University of Pittsburgh, Pennsylvania.

Albany Cutter

circa: 1895

maker: James Gould, Albany, New York

The beautiful graceful lines represent the height of the Victorian Period.

The pinstipping and art is probably the work of Kathy Bland of Virgina.

A museum quality restoration.

NOTE: The extra curved dash.

Albany Four Passenger Swell Body Cutter

circa: 1890's

maker: James Gould, Albany, New York

In the past century "Kris Kringle" has almost always been depicted arriving or departing in this type of sleigh probably because of its larger size.

NOTE: The extremely curved side panels gives it the name of swell body.

Doctor's Sleigh

circa: 1895

maker: Probably Sturtevant-Larrabee Company, Binghamton, New York

There is an identical sleigh in the Stoney Brook Long Island Museum with lined folding top and roll up window panel.

Two doors and boot scrapers, note portable heater. The top could be raised or lowered by using the lever next to the seat.

Brush Racing Sleigh

circa: 1900

maker: unknown

On the Sabath Day, during the winter, boys would meet in an open field to race (side by side) if their family owned a racing sleigh. As today, betting took place so drivers would cut a small sapling or brush to use as a whip.

NOTE: The extra height and thinner runners to cut through the snow drifts.

"Bob" Sleigh

circa: 1900

maker: unknown

This sleigh came from New York State. A standard box shaped farm work sleigh it has a lowering tail gate and its rear seat is easily removed ... taking on produce or freight during the winter season.

NOTE: As you can see this sleigh is used.

U.S. Mail Sleigh

circa: early 1900's

Former owner states: operated in East Rochester, Ohio in early 1900's

Most northern states relied on sleighs to deliver the mail during a servere winter.

Fore Door Comfort Sleigh

circa: 1910

maker: Northwestern Manufacturing Company

This sleigh came from the celebrated Coson collection of over 100 museum pieces. Prince Phillip of England stated it was the finest individual collection in North America.

NOTE: The body sits on springs (for comfort).

Horse & Sleigh Display

maker: unknown

Beautifully restored display unit on casters for easy maneuverability. The display is approximately 10 feet long complete with colt and full leather harness and reins. Absolutely pristine condition.

A great addition to your holiday decor!

Wagons

Click the picture(s) of each wagon for a printable version.

Conestoga Wagon

circa: 1880's

Operated between Lancaster and Pittsburgh, Pennsylvania

I cut down the front panel and made the seat and foot rest, in order to drive horses.

NOTE: Conestoga jack (1833), conestoga saddle, conestoga grease bucket, operating brake shoe.

Sheep Herder's Wagon

circa: 1880'S

maker: Studebaker Manufacturing Company, South Bend, Indiana

This wagon was used in Montana where there are no fences. This shepherd lived in this wagon throughout the growing season, along with many sheep dogs, and controlled up to 3,000 sheep.

Studebaker Grain Wagon

circa: 1880's

maker: Studebaker Manufacturing Company, South Bend, Indiana

Merchant's Wagon (Redmans Chewing Tobacco-Havana Cigars)

circa: 1900

maker: unknown

All merchandise came with wagon.

RFD Postal Wagon (Light Runner)

circa: 1900

maker: Harrington Manufacturing Company, Peoria, Illinois

Leather substituted for heavier wood to lighten the upper portion of the body.

This makes the wagon less top-heavy when catalog packages were stacked high behind the seat on very rutted rural roads.

Hitch Wagon

circa: Replica built in 2000

maker: Roberts Carriage Company, Quebec City, Quebec, Canada

Fire Hose Wagon

circa: 1900

Hatfield, Massachusetts

Antique fire hose wagon. Authentically restored.