Wordell Productions, Inc.
Bringing Our Shared History Alive
For most of my life I have been developing slide shows. During the late 1970's, with electronic advancements, I purchased equipment which allowed me to dissolve scenes, create stereo background music with four speaker surround sound and record a full narration, all automated with multiple projectors by the push of a button.
The following shows were produced starting in 1982 with the ever popular "The Quarries of Selden Neck". As you will read, it won statewide awards and in a ten year period, it had been shown nearly 90 times to well over 10,000 people. Due to its area saturation, it was retired for another ten year period. Now again (out of retirement) it has been shown 98 times. this show lasts 46 minutes and documents the history of Connecticut's largest island.
All presentations outside of eastern Connecticut will be charged for additional expenses.
The Quarries of Selden Neck
A Connecticut Natural Paradise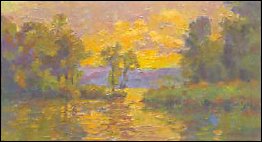 Experience the scenic beauty and fascinating history of Connecticut's largest island. This 46-minute program traces the long standing stewardship of the prestigious Selden family back to colonial times and even earlier Indian inhabitants. Farming on this mystery-laden Connecticut River island gave way to impressive commercial granite quarrying which was used for paving blocks on many streets of New York City during the late 19th century. See extensive historical research presented entertainingly with stereo background music and two-projection dissolve and sequencing. techniques.
Click here to read reviews of The Quarries of Selden Neck
Bronco Charlie, Rider of The Pony Express
A nation with a growing desire to communicate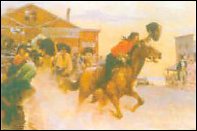 This historically accurate slide lecture is one of many given by Mr. David Wordell to groups in New England and New York City. As a young boy, Mr. Wordell met Charlie Miller several times during his last years and was so impressed that as an adult he launched a research project on the Pony Express. Mr. Wordell has also collected memorabilia made by Charlie Miller consisting of wood carvings and paintings depicting his life in the Old West. On request this collection can be placed on display during the slide program, which is 35 minutes long and accompanied by four-speaker stereo music.
Click here to read reviews of Bronco Charlie, Rider of the Pony Express
The Gruccis
The first family of fireworks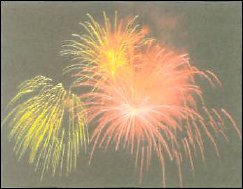 A captivating experience in sight and sound. Four speaker stereo music with your choice of classical Tchaikovsky or rock and roll. Synchronized to breathtaking dissolve photography recreating the Grucci's firework spectaculars.
The introduction traces the Grucci family's fireworks origins back to Italy in the 1850's to today a their private fireworks factory on Long Island where they make explosives such as eight-inch 45 pound shells that fire to heights of 600 feet.
This 34-minute program captures the thrill of an incredible and truly unique live fireworks show, but without the crowds and traffic.
Remember the beauty of the past to build a bright future...